Golden Gamble
Golden Gamble is back for 2021/22!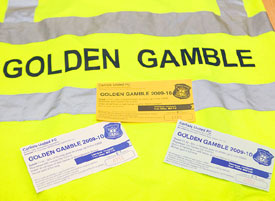 Tickets still cost just £1 with a free Golden ticket for every 2 purchased with 50/50 and £100 cash prizes to be won. Proceeds from the draw are used to support projects at Carlisle United.
The more tickets purchased by you, the fans the bigger the prize at half time!!
Winning ticket numbers are broadcast over the PA at half time, displayed on the big screen and are available on this website.
This draw is registered with Carlisle City Council (SL1539). Tickets not sold to persons under 16 years of age.