26/12/2012 Car draw 26th December 2012
Congratulations to our latest car draw winner, Mrs P Straker from the Harraby area of Carlisle. As Mrs Straker was unable to attend the draw at Brunton Park, her lottery collector, Arthur Brown was a very lucky stand in!
Thanks must go to former England cricketer, Paul Nixon for his help with the draw. Paul was at Brunton Park enjoying a "Boardroom Experience" Premier prize which his father Brian had won.
12/12/2012 Lotto Premier winners - December 2012
£5000 Christmas Draw – Mr E Parker Carlisle 23177
£1000 – Bill Douthwaite Carlisle 22577
Boardroom Experience – Mr H Norman Carlisle 23283
Signed CUFC Shirt – Mrs S Tomlinson Cleator Moor 23230
Signed CUFC Ball – M Henderson Carlisle 22780
12/12/2012 Lotto Premier winners - November 2012
£1000 – R Firth Carlisle 22772
Matchball Sponsor Package – T Bainbridge Shap 23284
Boardroom Experience – James Peet Penrith 22148
Signed CUFC Shirt – Mrs J Thompson Carlisle 22451
Signed CUFC Ball – E Benson Longtown 22430
26/10/2012 Lotto Premier winners - October 2012
£1000 – John Hedley CARLISLE 23027
BOARDROOM EXPERIENCE – Brian Nixon EAMONT BRIDGE 22466
SIGNED & FRAMED CUFC SHIRT – D Farrell LONGTOWN 23235
SIGNED CUFC MITRE BALL – Mike Little KIRKBRIDE 22620
The following 10 people have been selected to take part in the next car draw at Brunton Park on 26th December:
Trevor Coiles CARLISLE 23474
Terry Askew APPLEBY 22781
C Rayson CARLISLE 22836
Linda Creighton APPLEBY 23836
D McDonald CARLISLE 22946
J Gale CARLISLE 23181
M Oxley CARLISLE 23680
Keith Gillespie WIGTON 22007
J Hill CARLISLE 23483
P Straker CARLISLE 23385
03/10/2012 Lotto Premier winners - September 2012
£1000 – T Shield Aspatria 23615
Matchball Sponsorship Package – Emma Salt Little Orton 22870
Boardroom Experience – Mr S Davidson Carlisle 22535
Framed & Signed CUFC Shirt – Mr M Norris Carlisle 22583
Signed CUFC Mitre Ball – Karen Lucock Carlisle 22038
03/10/2012 Lotto Premier winners - August 2012
£1000 – Mr C Fordham Carlisle 23586
Matchball Sponsorship Package – N Napier Carlisle 23480
Boardroom Experience – Mr K Doran Carlisle 23256
Framed & Signed CUFC Shirt – Mrs A Wilson Carlisle 23470
Signed CUFC Mitre Ball – Mrs M Coleman Carlisle 22546
21/09/2012 Premier / Carlisle United Membership Update
The Brunton Park Development Association would like to apologise to all our members unable to purchase tickets for the Tottenham match on the priority sales days. Our management committee, sales agents and collection staff work hard to provide a positive experience and we are aware that on this occasion a number of people have not received the service they have been paying for.
Last week we had 1486 paid Premier members generating valuable income which is donated to the youth department at Brunton Park on a regular basis. While many of these people have only joined to win our excellent car and cash prizes, receiving priority ticket status and Carlisle United membership are the reasons others signed up and these key benefits make our Premier product much more than "just a lottery".
We will continue to offer Carlisle United membership benefits to any of our existing customers. Anyone who would require this please can you contact me by telephone (01228) 526237 option 4 or email lottery@carlisleunited.co.uk. Please leave contact telephone number if no reply. I will then forward all the required details to the Carlisle United ticket office who will post out your membership card.
I would like to thank everybody who has contacted me about their ticket purchases. It is only possible to put things right if we know there is a problem in the first please. Please do not hesitate to contact me, all feedback is very much appreciated.
Thank you all for support. Let's hope we get a great result against Spurs and the feedback received for ticket purchases in the next round is all positive.
Ewan Wood
25/08/2012 Job opportunities - Penrith, Keswick, Haltwhistle and Allonby
The Blues Lotto is looking for collection agents in the above areas. These positions involve no selling at all! It's as simple as picking up subscription money from the local addresses we send you.
If you have a friendly, outgoing personality and fancy a few hours work each week (ideal for active pensioners but anyone over 18 years old may apply). Average earnings are normally well above minimum wage, with the chance of bonuses too!
For further details call (01228) 526237 (and press option 4). Please leave your contact details on our answering machine if no reply.
06/08/2012 Lotto Premier winners - July
£1000 – K Phillips Longtown 23202
10 Finalists for next car draw to be drawn at Brunton Park on 15th September:
Hugh Bernard Carlisle 23783
A Davies Silloth 22853
Laura McAvoy Wigton 22232
Margaret Gill Carlisle 22281
C Ling Carlisle 23491
T Satterthwaite Aspatria 23291
H Hodgson Aspatria 22967
H Mullen Carlisle 23140
J Lucock Carlisle 22215
Stephen Waring Longtown 23469
Boardroom Experience – Brian Granger Carlisle 22073
Signed CUFC shirt – John Salkeld Carlisle 23940
Signed CUFC Ball – Andy Park Scotby 23845
06/08/2012 Lotto Premier winners - June
£1000 – Neil Hill Carlisle 22709
2 pair of season tickets – Richard Stainforth Carlisle 22141
Boardroom Experience – H Stockdale Carlisle 23413
Signed CUFC shirt – D Smith Carlisle 22467
Signed CUFC ball – Mrs E Benson Longtown 23430
22/06/2012 Lotto Premier winners - May
£1000 – Stephen Irving Leeds 22595
2 Carlisle United Season Tickets – David Brown Surrey 22212
Boardroom Experience – E Docherty Carlisle 22670
Signed & Framed CUFC Shirt – A Oglanby Aspatria 23650
Signed CUFC Ball – Maureen Smart Silloth 23838
15/05/2012 Lotto Premier winners - April
£1000-Ian Blain Darlington (22809)
Matchball Sponsorship Package – Lesley O'Donohoe Carlisle (22819)
Boardroom Experience Package – S Challenger Carlisle (23040)
Signed & Framed CUFC Shirt-Mr D Wright Wigton (23086)
Signed CUFC Ball- Grace Watson Carlisle (22477)
13/04/2012 Lotto Premier winners - March
£1000 – James Copeland Gretna 23871
Matchday Hospitality Package – Mr Rayson Carlisle 22353
Boardroom Experience – W Brown Carlisle 23956
Framed & Signed Shirt - S Simpson Carlisle 23644
Signed Ball – J Allan Carlisle 22206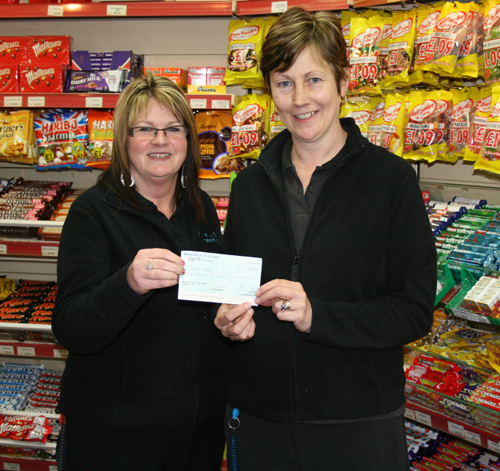 James Copeland from Gretna was the £1000 Lotto Premier winner for March. James pays his lottery membership at McKenzies Newsagents, Central Avenue, Gretna where staff members Gillian and Shona look after his cheque!
25/02/2012 Lotto Premier car winner
Our latest car draw took place at half time during half time at the Yeovil match with David and Christine Beattie from Gretna winning a new Nissan Pixo car supplied by Benfield Nissan, Rosehill, Carlisle.
25/02/2012 Lotto Premier winners - Febraury
£1000 – Gordon Smith Gretna 22745
Matchday Hospitality Package – Eleanor Harvey Carlisle 23660
Boardroom Experience – Richard Sunderland Carlisle 22253
Framed & Signed shirt – A Fairlie Carlisle 23646
Signed Ball – A Scott Carlisle 23410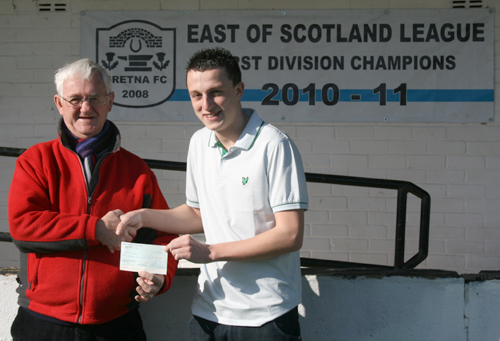 Gordon Smith from Gretna is our £1000 Lotto Premier winner for February. He is seen here receiving his prize from Dan King, one of the Blues Lotto agents for the area, at Raydale Park home of our Blues Lotto partner Club, Gretna FC 2008.
31/01/2012 Lotto Premier winner
Our £1000 winner for January, Jean Irving from Longtown receives her cheque.
27/01/2012 Lotto Premier winners January 2012
£1000 – Mrs J Irving Longtown 226865
Matchday Hospitality Package – Philip Raffles Carlisle (Currock) 22291
Boardroom Experience – Mr G Ismay Wigton 23804
Signed CUFC Shirt – Mr W Ridley Carlisle (Currock) 22269
Signed CUFC Ball – Mr James (Harraby) 23017