Lotto Premier news and results 2010
21/12/2010 Lotto Premier winner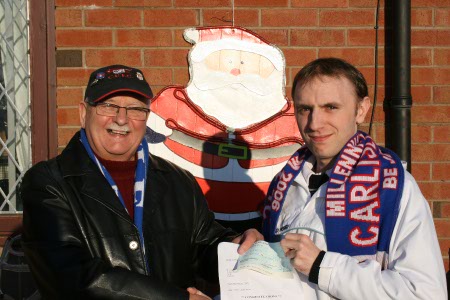 Lotto Premier winner Chris Topliss from the Belle Vue area of Carlisle receives his £ cheque from local agent Connell Steven.
21/12/2010 Festive schedule
The lottery office will be closed from Thursday 23rd December until Tuesday 4th January. Any messages left by telephone (01228) 526237 (option 4) or email lottery@carlisleunited.co.uk will be answered on 28th December and 1st January subject to the scheduled Carlisle United matches take place on these days.
Our regular weekly draws will take place on 23rd December and 1st January with prizes posted out (standing order customers) or delivered by your collection agent.
17/12/2010 Lotto Premier November winners
£5000 Andrew Airlie Whitehaven 22432
£1000 Mr Topliss Carlisle (Belle Vue) 22079
Signed Shirt Kathleen Cragg Appleby 22978
Signed Ball Miss N Greenwood Carlisle (Denton Holme) 23184
Boardroom Package Phil Mallinson Carlisle (Durranhill) 22655
06/12/2010 Blues Lotto collection agents required
Longtown & Gretna areas
Hours to suit
Excellent rates paid
Contact Ewan 01228 526237 (option 4)
01/12/2010 Lotto Premier October winners
Our £1000 winner for October, Anthony Caddy from St Bees receives his prize from Ben Marshall.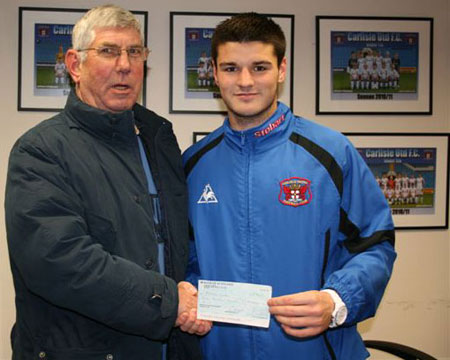 19/11/2010 Lotto Premier October winners
Congratulations to the following people who are all winners in the October Lotto Premier draw.
£1000 – Anthony Caddy St Bees 22752
Matchday hospitality for 4 – Stephen Rutherford Farnham 22782
Signed Shirt – S Smith Upperby 23594
Signed Ball – J Reay Carlisle 22471
Boardroom Experience – H Watson Raffles 23282
19/10/2010 Lotto Premier September winners
Congratulations to the following 10 people who have all been selected to attend a game at Brunton Park during the festive season. All of them will take place in our popular eliminator style half-time draw where the winner will drive away in a brand new car. The other 9 finalists all take home a cash prize. The longer they remain in the draw, the bigger that prize will be! The lucky 10 are:
Miss R Armstrong Corby Hill 23203
Simon Holliday Derby 22751
David Beattie Carlisle (Carleton) 22235
Ann Pointen Carlisle (Currock) 22385
A. Raine Carlisle (Morton) 23341
Adam Armstrong Kirkbride 22804
Raymond Nicol Durdar 22599
Richard Wood Middlesex 22020
Alistair Warwick Brampton 22706
H.Watson Carlisle (Raffles) 23282
Details will be sent out to you all by post later this week.
This months other winners are:
£1000 – Nigel Little Carlisle 22617
Signed Carlisle United Shirt – Chang Liu Carlisle 22671
Signed Carlisle United Ball – Mr D Stubbs Carlisle 23244
Matchday Boardroom Experience – Karen Lucock Carlisle 22038
10/09/2010 Lotto Premier August winners
Original Premier Club numbers in brackets
£1000 – J Gale Dalston 23181 (1181)
Matchday Hospitality Package – Colin Mandle Penrith 22979 (979)
Boardroom Experience Package – Harraby Catholic Club 22934 (934)
Signed Carlisle United Shirt – Fred Brown Hawick 22539 (539)
Signed Carlisle United Ball – Martyn Bacon Carlisle 22574 (574)
In our September draw 10 lucky members will be invited to attend our eliminator draw at a forthcoming fixture at Brunton Park. Our winner that day will have the option of taking home a new "60 registration" car or a cash alternative prize. The 9 runners up will all receive cash prizes. If you are not a Lotto Premier member yet please contact us at lottery@carlisleunited.co.uk for details on how you can have the chance of winning this and many other great prizes.
10/09/2010 Lotto Premier winner
Lotto Premier winner, Mr S Pooley from Penrith is pictured receiving his prize of a signed Carlisle United ball from Matt Robson before paying a visit to the dressing room prior to the recent Swindon game.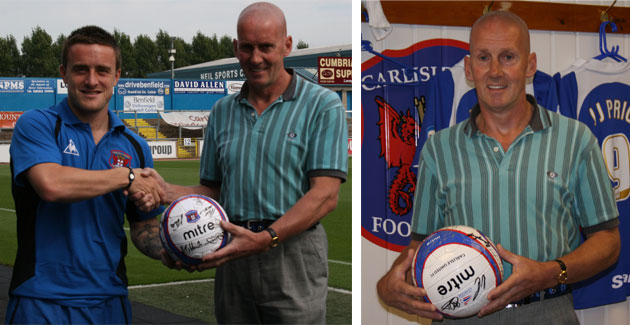 16/08/2010 July winner receives cheque
Tom McAvoy from Wigton receives his £1000 cheque won in the July draw.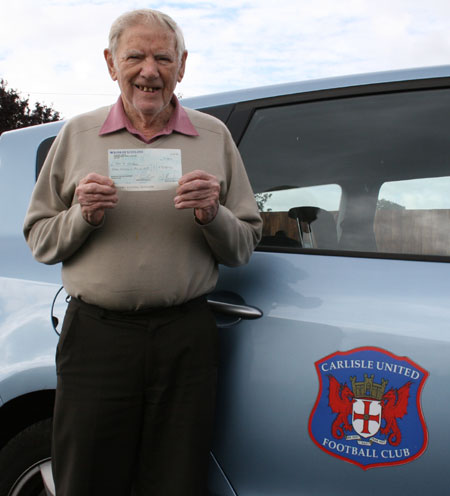 06/08/2010 Lotto Premier winner - July 2010
£1000 Tom McAvoy Wigton (22)174
Matchball Sponsorship Package Robert Gate Carlisle (22)777
Signed Shirt J Bell Carlisle (23)1236
Signed Ball S Pooley Penrith (22)124
Boardroom Hospitality Mr D Crosby Norwich (22)589
17/07/2010 Lotto Premier car winner
The final draw for the latest Lotto Premier car, a Nissan Micra supplied by Benfield in Carlisle took place at the Newcastle United friendly this afternoon.
Our 10 finalists lined up for the eliminator draw with Andy Clode (standing in for wife Deb) and Chris Rivett going head to head for the final stage of the draw. Chris was the winner and received the keys from our Brunton Park legends Alan Shoulder, Les O'Neil and Ivor Broadis.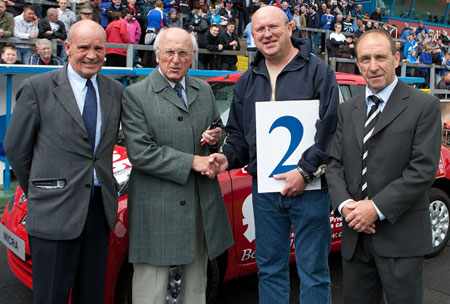 16/07/2010 Lotto Premier winner - June 2010
£1000 - Michael Hill Fletchertown (22)789
Match Day Hospitality Darren Simpson London (22)311
Signed Shirt Cameron Mungall Carlisle (22)308
Signed Ball Mr M Brayton Carlisle (22)663
12/07/2010 First Lotto Premier member to win 2 weekly draw prizes
Marie Ferguson from Roslin near Edinburgh became the first Lotto Premier member to win 2 weekly draw prizes in the same week. Z6833 and Z5456 were the lucky numbers which won two £100 cheques for Marie in this weeks draw. Less than 10 people have won twice in the same week during the five years the Blues Lotto draw has been running.
As well as the weekly prizes and new rollover draw, Premier members have their own exclusive monthly draws (limited to 1500 people) where there another £17,000 cash, 3 new cars plus much more waiting to be won. Membership is just £2 per week and an application form can be downloaded on this site!
Lotto Premier winners for June will be published on this next week.
12/07/2010 Membership cards
We have just taken delivery of membership cards (Teamcard) for next season. These will be posted out or delivered over the next few weeks.
Please use the contact facility on this site to infortm us of any name, address or bank details changes (standing order / debit card customers).
06/07/2010 May draw season ticket winner
Our winner of 2 season tickets in our May draw, Bryan Glendinning came along to Brunton Park to receive his prize. Tarn from the Carlisle United ticket office helped him find a place to stand in The Paddock.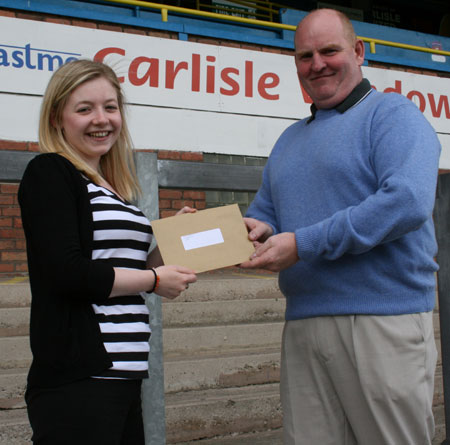 18/06/2010 £1,000 Lotto Premier May winner
"Fly" the dog looks after our £1000 May Premier winners cheque for Shirley Watson from Harraby and daughter Bethany. It was definately a case of "beginners luck" for Shirley who has been a Premier Lotto member for less than a month. Lottery agent Arthur Brown presented the cheque.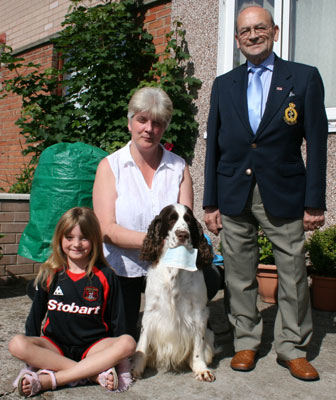 16/06/2010 Lotto Premier Winners for May
The Lotto Premier Winners for May are:
£1000 - Miss S Watson Carlisle (22)988
Pair of season tickets - Bryan Glendinning Carlisle (22)561
Boardroom hospitality at Brunton Park - Paul Bradley Leigh (22)245
Signed Shirt - Scott Beeby Sheffield (22)517
Signed Ball - K Davidson Carlisle (22)646
Please note: The original Premier Club membership numbers have now received a 22 or 23 prefix before the membership number. Membership numbers 1-999 have become 22001-22999. Membership 1000 and above becomes 23,000 onwards. This change has taken place to give Premier members the chance of winning prizes in the weekly draw.
12/05/2010 Lucky 10 for car draw
Our finalists who will go forward to win the next new Lotto Premier car at Brunton Park have been drawn by Club Chaplain, Rev Alun Jones. The lucky 10 members hoping to win the prize are:
Malcolm Jackson, Brampton (Member 59)
Christopher Rivett, Eaglesfield (188)
David Couthard, Nottingham (359)
Shaun Edwards, Abbeytown (404)
Deb Clode, Brampton (216)
Peter Fullelove, Carlisle (118)
Colin Tickner, Keighley (869)
John Myron, Annan (593)
John Hodge, Belford (503)
David Peggs, Maryport (651)
The draw is planned to take place at the Newcastle United Centenary Match in July or our 1st home league fixture of the new season.
The following people have all won prizes in the Premier draws for January - April 2010;
£1000- Frank Bell, Carlisle (117)
£1000- Raymond Dent, Carlisle (725)
£1000- Robert Waite, Carlisle (57)
£1000-Chris Lawrence, York (347)
PAIR OF SEASON TICKETS- Frank Gribbon, Carlisle (331)
WEMBLEY WEEKEND- Craig Davidson, Aspatria (178)
MATCHBALL SPONSOR- Carlisle United Supporters London Branch (306)
CAR DRAW - see list above
SIGNED SHIRT- Alasdair Blain, Wylam (177)
SIGNED SHIRT- Roger Smith, Scotby (502)
SIGNED SHIRT- Bryan Ballantyne, Wigton (480)
SIGNED SHIRT- M Beattie, Carlisle (354)
SIGNED BALL-Richard Wilkes, Stafford (798)
SIGNED BALL-Mally Douglas, Carlisle (883)
SIGNED BALL- Stuart Oswald, Keswick (525)
SIGNED BALL- Neil Harris, Carlisle (601)
BOARDROOM EXPERIENCE- Mr D Crosby, Norwich (589)
BOARDROOM EXPERIENCE- John Paul Whalen, Carlisle (820)
BOARDROOM EXPERIENCE- Harraby Catholic Club (935)
BOARDROOM EXPERIENCE- W Jackson, Penrith (400)
CORPORATE DRAW WINNERS- Malcolm Fawcett, Houston, Texas. Kevin McGeorge, Carlisle. Armstrong Watson, Carlisle. Border Food Machinery, Carlisle.
25/01/2010 Premier Club car draw
Ten lucky Premier Club members took to the Brunton Park pitch during half-time at the Stockport game on 23rd January all hoping to win a new Nissan Micra or our new alternative cash prize. The 10 finalists taking part in the exciting eliminator style draw were Harold Bowron (member 211), John Tremble (959), Trevor Barwick (155), Eric Hope (448), Nigel McHard (313), Douglas Grubb (327), John Notman (476), Tony Finnigan (421), Chris Green (214) and Jonathan Jordan (340).
Each finalist received a cash prize which increased the longer they stayed in the draw. Douglas Grubb from Boroughbridge holding board 6 and Harold Bowron from Edinburgh with board 1 were the final 2 remaining in the draw with Carlisle United Club President, David Dent drawing Douglas's ball number 6 as the winner.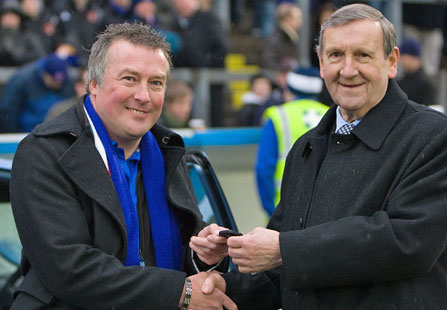 01/12/2009 Premier Club Christmas winners
Tommy Heenan from Carlisle will be having a very happy Christmas after winning £5000 in the December Premier Club draw. Our £1000 monthly winner is Blanche Tiffin also from Carlisle who received her cheque from Carlisle United Operations Manager, Nigel Dickinson.